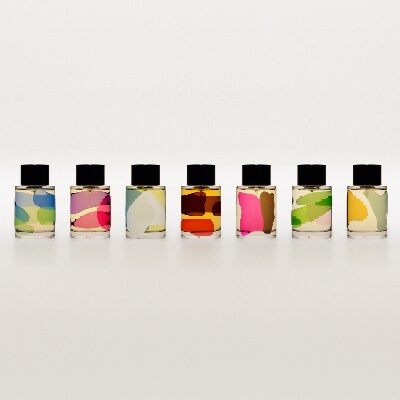 Frédéric Malle's first experience of synesthesia occured during his studies of perfumery. When fellow students would write copious notes to memorise ingredients and perfume accords, Frédéric found that he could use also colour to remember scents and their unique characters.
The concept of synthesia — a remarkable neurological condition in which two or more of the senses entwine — is one that Frédéric has toyed with for years. Previous collaborations include special commissions for artists such as Phillip Low and Marcelo Gomes to visualise the shapes and textures of our perfumes in plexiglass sculpture and abstract photography. In contrast, the focus of this new limited edition collection is for the first time centered on the perfume bottle itself.
Frédéric took seven classics from the Editions de Parfums collection and intuitively paired their shapes, tones and textures with specific colour shades. An innovative application of tinted resin brings the concept to life, splashing the iconic 100ml flacon perfume bottle with simple daubs of translucent, jewel-like colour.
Available for a limited time only, the colour splash bottle is an omnisensory portrait of our most classic editions — tribute to the fine art of perfumery and the perfect gift for a lover of fine perfume.
Discover the Limited Edition Collection